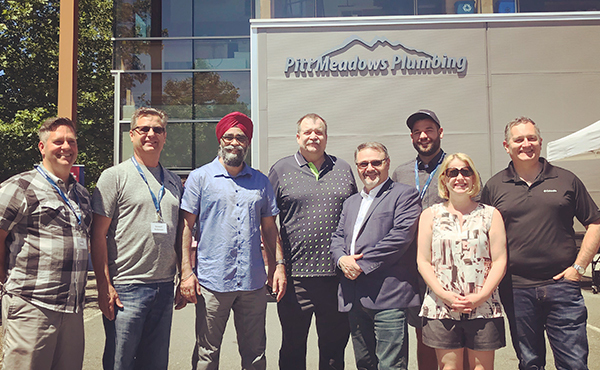 On June 16th we were pleased to open our doors to the community and welcome over 100 people to explore Pitt Meadows Plumbing.
Amongst our guests, we were honoured to host the Minister of National Defense, Harjit Sajjan along with our local MP, Dan Ruimy, who together with our local community, were provided guided tours of our office and pre-fabrication shops including demonstrations showcasing the various technologies and innovations that we utilized within our business every day.
A key focus of our event was to highlight the developing arena where skilled trades people with diverse interests can find a career. It's worth noting that PMP currently employs over 150 people, with 60% being under the age of 35.
Thanks to all for attending and sharing your sunny Saturday with us. We hope you enjoyed meeting our amazing team and exploring everything PMP has to offer both as an employer and a Canadian Industry Leader.
Thank You, to our elected officials for your support and attendance.
Minister of National Defence, Harjit Sajjan
MP, Dan Ruimy
City of Pitt Meadows Mayor, John Becker
City of Pitt Meadows Councilman, Mike Stark
City of Maple Ridge Councilman, Gord Robson
MLA, Lisa Beare
MLA, Bob D'Eith
And finally, a round of applause and thank you to our dedicated staff for making this event a success.